Liz Clayton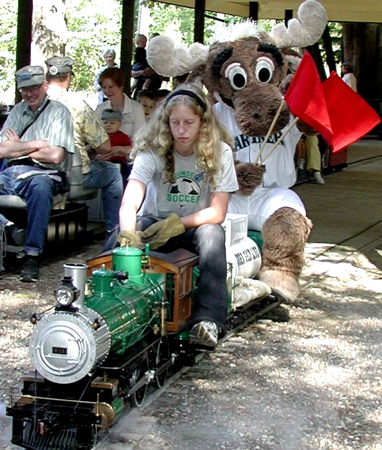 1. Mariners moosehap
2. Unvegetarianism again, at the hand Hot Doug's Encased Meat Emporium
3. Accidental drive with my friend Shawn to pumpkin patch, Ontario Badlands, abandoned brick works, and a coffee place in the middle of nowhere where I ended up knowing the barista already, October 14.
4. Will Rigby
5. Ninth Street Espresso, Chelsea Market location, NYC
6. David Scheid
7. Storm of ages, including Sonic Youth, the Tunnel Bar and Northampton Coffee, followed by harrowing drive in a Miata from Northampton to Rochester, February 14-15.
8. Vancouver for the first time since 1986 (except the scuzzy part. Which admittedly is large.)
9. Allison Busch (and also her tour of Flint, MI)
10. The shitty American dollar
11. The shitty American Homeland Security Administration finally arresting "Eli" Clayton of Arizona on charges for fraud which had slowed down my border crossings due to flagging my passport for eight weeks, violated what was left of my civil rights, delayed my parents, and made my friend almost miss a hot date.
12. Jamon Serrano
13. Moving closer to Mr. Met
Gerard Cosloy
Jesu – Conqueror (Hydra Head)
Bottomless Pit – Hammer Of The Gods (Comedy Minus One)
Marked Men – Fix My Brain (Swami)
Times New Viking – Present The Paisley Reich (Siltbreeze)
Shellac – Excellent Italian Greyhound (T&G)
Grinderman – s/t (Anti)
Major Stars – Mirror/Messenger (Drag City)
Fucked Up – "Year Of The Pig" 12″ (What's Your Rupture?)
Maximo Park – Our Earthly Pleasures (Warp)
Golden Boys – Whiskey Flower (Emperor Jones)
Samara Lubelski – Parallel Suns (The Social Registry)
"Curb Your Enthusiasm" – season 6 (gerbils, The Blacks, the ultimatum, Jeff's head shaved, etc.)
"Saxondale" season 2
Grinderman – Slim's, SF
Boris and Michio Kurihara, Mohawk, Austin
Yo La Tengo & Mark Arm's salute to classic Jewish songwriters (Keith Levene, David Weave Roth), Maxwell's
Torchy's
Chuck Meehan
Without a doubt the wide-open rollercoaster ride that was the NL playoff scrum topped my personal list as far as 2007 sports excitement. Chollys Wallbangers a/k/a the Fightin' Phils resiliency finally payed off by capitalizing on the Mets collapse (and perhaps giving them the initial shove off the cliff) along with the cementing of a now bona-fide serious rivalry (although CBP security in secs 301-304 may not be as enthused). The excitement in Philly was snuffed out all to soon in the NLDS due to Phils bats shutting down, Manuel giving up on a young rookie pitcher who had heroically provided the Phillies injury riddled rotation with near-guaranteed quality starts and Kazuo Fucking Matsui. Despite the deflating ending, all in all it was an exciting season, one whose dynamics and possibilities were shifting on a near inning-to-inning basis by the final stretch.. I would like to give thanks to Jimmy Rollins (natch) and give shout-outs to a few of the Phillies less celebrated heroes such as Kyle Kendrick, JC Romero, Tadahito Iguchi and the Phillies superb 1st base coach Davey Lopes.
I would also like to extend appreciation to the Philadelphia Inquirer for reversing a huge mistake as David Aldridge is currently writing for the Inkwire and Steven A Smith no longer does so, the 76ers for finally giving Billy King his long overdue heave-ho, Brian Westbrook, Mike Richards, Gary Matthews Sr (yes Phans, I like Sarge in the broadcast booth), Clockcleaner and Mayor-Elect Michael "Mixmaster Mike" Nutter.
Looking to 2008, I hope for a healthy Cole Hamels, for Pat Gillicks off-season moves to work out as well as his in-season moves have, and for the Flyers to continue on an upward arc and show more consistency as the season progresses. I am flummoxed on which direction the Iggles should take (one last tweak or overhaul with new coaching staff and QB?) and I would be happy to see a Dawn Staley-coached WNBA franchise come to Philly as they would be as good as bet as any to end the Curse Of William Penn. Best to all in 2008
David Roth
There are people involved with this blog — I can think of one without even really trying that hard — whose musical expertise far exceeds mine. I know my role here — that's the periodic long and melancholic NBA post, and walking the currently quiet bitching-about-the-Mets beat — and I'm happy to play it. But I'm also glad to get the opportunity to think back on the sporting and non-sporting things I liked the most this year. The only things that came to my mind at first were "sleeping" and "sandwiches," but I was able to come up with some other stuff after a little thought.
– No Age, in concert. I saw them in a very loud party/performance space at Columbia, in a show sponsored by Barnard College's radio station. That in itself doesn't sound terribly promising, but they were totally galvanizing, intense and amazing. I also want to use the word "democratic" to describe the show — which featured lots of performers-in-audience/audience-on-stage action — but there was very little that recalled any system of government at all about the show. I think that's what I liked most about it. Second-best show honors go to Band of Horses, who managed to play a great, enjoyable set at 2am as part of a transcendently wince-inducing brand-placement CMJ-week show held at a venue named after a terrible rock magazine — and that turned out to also be a cross-promotion between the afore-unmentioned magazine, a caffeine-infused alcoholic drink and a fucking video game. In my defense, the show was free. But attending it was still pretty indefensible. So, you know, sorry. I didn't know I'd be apologizing so soon.
– Last year's NBA Western Conference Playoffs. I loved the Utah/Golden State and Utah/San Antonio series, which absolutely dragged a weird commitment and interest (and some of my better CSTB writing, I think) out of me that I didn't expect. I got remarkably lucky with those series, too, as I was somehow out or otherwise occupied during the blowouts and invariably caught the remarkably exciting, wrenching, inspiring games. I don't know when the NBA came back around for me — and I should by all rights be down on it, as the Nets, the team I died with growing up, is currently in the middle of some nightmarish rebranding/slo-mo relocation thing — but it absolutely has, even as my interest in the old home team has shrunk considerably. It helps that there's some really good writing currently being done about basketball — Henry Abbott on one end; the Wizznutzz off on The Island of Al Jarreau, doing their insane, amazing thing on the other — but I don't think I've enjoyed watching or talking about basketball this much since I was in middle school. The watching and the talking are both a lot more fun without the having-to-cheer-for-Chris-Morris part.
– Hot Fuzz. There were movies this year that made me feel bigger emotions than this one, but for a movie that ends with a 30-minute shootout between the two stars of Shaun of the Dead and every elderly British character actor alive, this one is awfully carefully made. It also made me laugh a lot.
– Roast chicken. I love to eat it, and am getting better at preparing it. 2008 will be the year of the roasted chicken. Mark it down.
– The return of Marlon Anderson to the Mets. I am trying as hard as possible not to remember anything else from the past season, which was notable only for proving to me that I'm still capable of getting pissed off and borderline depressed about sports. But I was glad to see Marlon back in the fold, and to see that he's been re-signed. Marlon Anderson is everything Lenny Harris wasn't, and that's as high a compliment as I can offer.
– Remainder, by Tom McCarthy. Came to my attention via a recommendation from Sam Frank, and while I won't say I enjoyed every moment of reading this novel — it's purposefully distant and pretty stingy with its literary rewards — it has stayed with me more than anything else I've read this year, by a long shot. This and Heidi Julavits's equally vexing, equally fascinating The Effect of Living Backwards — which didn't come out in 2007, but which I bought at a neighborhood crap store a few months ago — are, I think, the two best books about the anxieties of life during the War on Terra Era. So I guess it stands to reason that neither one of them is that lovable. It's not that lovable an era. But this is a very, very impressive book.
– And some bands that made songs I really liked this year, because I haven't listened to nearly enough albums to put together much of a real list: Arbouretum, Deerhunter, Dan Deacon, Jesu, the aforementioned No Age, Band of Horses, Spoon, Twilight Singers, The Rosebuds, LCD Soundsystem. If this looks like a list compiled by a middling free-weekly rock critic…that is probably because I read a lot of brief reviews in free weeklies. And then do more or less whatever they say. Except for Animal Collective.
Kevin Rys
Sports:
Red Sox winning the World Series for the 2nd time in my life.
The Pats going absolutely ape-shit on the rest of the NFL (especially sweet for those of us who may have paid money to sit in Sullivan Stadium to watch the Marc Wilson or Tommy Hodson-led P-Men).
The Celtics return to relevance.
Records:


Cococoma lp on Goner
Busy Signals lp on Dirtnap
Black & Whites "You're the Only Girl" 7″ on Douchemaster
Hubble Bubble "Faking" lp reissue on Radio Heartbeat
Sonic Chicken 4 lp on In The Red
Shows:
Radio Heartbeat Powerpop Fest at Southpaw in March (favorites: Gentlemen Jesse & His Men, Milk & Cookies, Speedies, Tina & the Total Babes)
Krunchies/Wax Museums/Romance Novels- Ronny's in Chicago
Wax Museums/Okmoniks the next night at Cal's in Chicago
Busy Signals/Gentleman Jesse & His Men/Carbonas at the Beat Kitchen in Chicago
Busy Signals/Cococoma/Jack Oblivian at the Buccaneer in Memphis
Monsignor Jeff Evans/Haunted George/Cheater Slicks at Cafe Bourbon Street in Columbus (Haunted George was insanely amazing)
Ben Schwartz
I can't offer a Top Ten in any category, since my son Archer has kept me from doing much but reading and watching old movies on Netflix. So, here's my ten top moments of 2007:
10. Lou Piniella takes over the Cubs — best Cubs manager since Durocher, and he quickly moved to boot Prior and Wood out of the line-up by bringing in pitchers and letting them prove they could throw a ball instead of praying for them to do it.
09. "Come On, Petunia" by The Blow — found this on Martha Plimpton's My Space page, which was then playing it as the welcome song. She's cool too as anyone visiting will see, but finding this song was one of those classic day stopping events that had me playing it 10 times. It's your basic K/Calvin Johnson style punk, but well done. Plimpton has since changed the song to a Bing Crosby holiday thing, but her page negates any lingering resentment I have about PARENTHOOD.
08. WGA Strike — I'm no longer unemployed, I'm on strike! The entertainment companies argue that there's no money to be made on the Internet, which I would refute, except that I only blog here … The benefits to you the viewer? No more ACCORDING TO JIM scripts!
07. My son napping in the back seat of the car — usually happens on the way home from some excursion, my daily moment of zen. I'm truly some kind of humbled monk when that™s a highlight of my day.
06. THERE WILL BE BLOOD — is there a better film on modern America than a turn-of-the-last-century look at rural Xtianity v. raw crude commerce? Daniel Day-Lewis' John Huston impression is hilarious and menacing, and PT Anderson has made his best movie since BOOGIE NIGHTS. I thought Anderson managed to get thru a whole movie without a single Scorsese reference until I realized it starred Day-Lewis in a giant mustache in 19th Century America. Other than that …
05. Tie: Congress Goes Democratic in 2007/Sub-Prime Mortgage Mess — Congress woulda been number one had they fixed anything (they get #5 for giving Henry Waxman a gavel) and the sub-prime disaster means I may be able to finally afford a house, now that the crooked lenders, broke borrowers, and ultra-inflated LA real estate market is rethinking its financial situation for 2008.
04. The Wrong Trousers live cover/video of "Video Killed the Radio Star" — Pitchfork ain't always ˜tarded. Pitchfork, no doubt running out of ideas, ran a cheezy Best of 2007 list (YAWN …) and picked this video by San Diego's twee-est band ever.
03. The Mitchell Report — well, this Internet loud mouth was certainly vindicated in 2007 on every one of my needle guesses, so far, except for The Unit, Randy Johnson, whose name was not included. Mitchell may be stepping down, but let™s just say, my investigation continues. Or, at least, my unfounded accusations will continue. Keeping the focus on the Cubs — Sammy Sosa escapes the Inquistion, Mitchell finds Dusty Baker not guilty of longstanding charges he destroyed Prior and Wood's needle tracked arms (anymore than overwork ruined Eric Gagne™s), and the current Cub line-up remains spike free and ready to play. Sammy is a HOF first ballot candidate, thanks to Mr. Mitchell, and this might finally make Prior and Wood dumpable.
02. Roger Clemens named in the Mitchell Report — why should Barry Bonds get the hot seat alone? If anybody in baseball exhibited worse prima donna behavior than Bonds, it's Clemens, who charged the Astros 18 mil for his part time services and would not even deign to travel with his teammates for away games. Is that really worse than Barry's stealing Gary Sheffield™s chef and demanding three lockers and a gold plated laz-y-boy or whatever it is he got from the Giants?
01. Sam Zell " Man of The Year! And mainly for this announcement on the Cubs web site: œTribune Co.'s new CEO Sam Zell said the Cubs will be sold by Opening Day, and that he may sell naming rights to Wrigley Field because such rights could be ˜extraordinarily valuable.™" Finally, the stink of the worst owner in baseball history, Philip K. Wrigley, who actually put a ballpark before his own team and came up with our current candy ass logo by having one of his bubble gum wrapper artistes design it — may be history. Go, Sam Go! As to naming rights, if we're looking at Chicago based empires that like to see their name everywhere, might I suggest, Oprah Field?