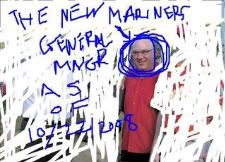 The American League team with the most room for improvement, The Seattle Mariners, announced the hiring of a replacement GM today, Jerry Zduriencik (above, ruined image swiped from The Newcastle News), the former Milwaukee Brewers' Vice President-Special Assistant to the General Manager for Player Personnel.
Per the USSMariner's always-reliable Dave Cameron:
Now, Jack Z isn™t exactly the new school analytical type we were all hoping for. His strengths are all scouting based, and he won™t be the kind of guy to come in and turn the Mariners into the next Oakland/Cleveland/Boston/Tampa Bay. With Engle, Fontaine, and now Zduriencik, the Mariners are clearly going to try to win with the Atlanta/Minnesota/Anaheim method of just outscouting everyone else on earth and developing so much good talent from within that they can™t help but be competitive.
Guess what? It can work. It™s not the best possible path, but it™s not doomed for failure, either. If Zduriencik can prove to be as adept at evaluating major league talent as he has been at amateur talent, and the M™s commit to a development pipeline that enables the team to grow a roster of homemade all-stars, they could line themselves up to be a very good team.
Apparently this person is at least partially credited with the building of the Brewers' successful young nucleus of everyday players, but shouldn't Zduriencik also receive the shame for assembling that bullpen? My take really just a simple reminder: at least he isn't Bill Bavasi!