Both Doug Kalemba and Jon Solomon beat each other to a pulp this morning to make sure I knew about the town hall meeting this evening at Carnegie Mellon University to finally settle the question of who will be their official mascot. Because apparently that affable low-rent fur-suited Scottie dog in a plaid vest that skitters about the field at CMU Tartans games? Is not, technically, their mascot.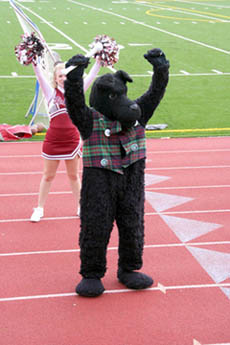 The Post-Gazette reports:
…As it turns out, a school that has programmed robots for space exploration and cracked some of the world's trickiest computing riddles nevertheless falls short by one measure of problem solving skill: It has never in its 106-year history come up with an official mascot.
So the school has formed a task force to do something about it. The panel is asking students, alumni and others if the Scottie Dog now used informally ought to be Carnegie Mellon's official image, or if something else — a robot, say, or maybe a bagpiper — better suits a university with Scottish roots that has produced both Nobel Prize winners and Hollywood stars…
…Whatever the choice is, Carnegie Mellon will have to consider just how the image should be crafted and then take steps to trademark its use, said Jennifer Church, dean of student affairs who co-chairs the Mascot Task Force. The school said the name Tartans will continue to be used, especially in connection with athletics.
Arguing that the ambiguously relevant Scottish terrier should be replaced with something depicted with more consistency and, theoretically, marketability, the school is entertaining input from many of the future Nobel Prize winners and Hollywood stars who comprise its student body:
"We have Tartan as our name, but it's characterized as the Scottie Dogs because you can't really have a Tartan out there dancing around. That's kind of the problem," said Megan Pentz, 21, a senior and art major from Hartford, Conn.
Tonight's town hall meeting takes place at the University Center's McConomy Auditorium (pouring rights: PepsiCo) at 5:30pm.