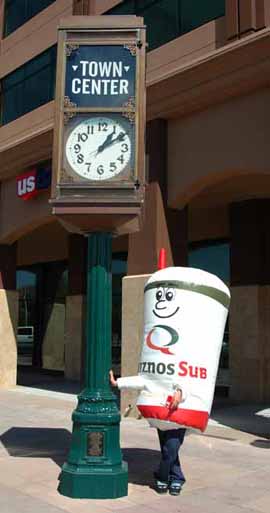 While astute mascot watchers begin the tailgate of tear-welling that heralds the demise of Chief Illiniwek this evening, news from further east offers a ray of hope to would-be mascot maulers and film enthusiasts alike.
The Pittsburgh Tribune-Review reports that harrassment charges were dropped Tuesday against a Pittsburgh-area man who, along with four others, attacked a giant Quizno's soft-drink cup mascot last April along Route 30 in North Huntingdon.
Nicholas Trumpe, 24, was fined $400 for last spring's attempt to emulate the movie Jackass.
He and his four accomplices appeared in a Westmoreland County courthouse yesterday to contest charges of disorderly conduct and harrassment. All had harrassment charges dropped in favor of fines, and Trumpe avoided a 30-day jail sentence originally handed down in 2006.
According to today's recap by Rich Cholodofsky:
Witnesses said the men ran out of the car, kicked the person in the beverage costume several times and then posed in celebration before returning to the vehicle as the light turned green.
Matthew Kukic, 17, the costumed cup, told the judge he was surprised by the attack and suffered lingering knee problems as a result of the stunt.
Though many would expect Kukic's brutal assault might give him pause in career choice, his unflappable professionalism would suggest he'll have a bright future in the "bigs" should he choose to move up to the world of, say, WNBA mascot:
"I was so scared that when it was over I started waving again. I didn't know what else to do," Kukic said.