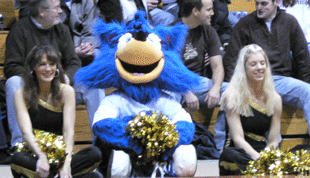 In what seemed like the perfect crime, Paul Clark, talent for the Continental Basketball Association's Great Falls Explorers Rocky Raccoon mascot, was arrested Monday after being found putting in unnecessary overtime at the Four Seasons Arena in Great Falls in order to siphon excess beer from the venue's beer keg.
Clark/Rocky, along with companion Kenneth Gavin, 18, of Cascade, was found inside the arena at approximately 2:00am by security, reports the Great Falls Tribune. The two men admitted to entering the building in order to steal some tap beer.
Clark is suspended without pay from his duties as Rocky Raccoon, said Ryan Acra, Great Falls Explorers general manager. Explorers officials will wait for the outcome of court proceedings before making any final decisions.
"We're mostly worried about him as a person," Acra said. "He's part of the family."
The next home game is Jan. 30. No decisions about who will be wearing the big blue suit for that game have been made.
"This was a huge mistake that I whole-heartedly regret," Clark said in a written statement. "I would like to apologize to the Great Falls Explorers' management, coaches, players and fans."
Clark said he "accepts full responsibility for my actions" and has "no explanation or excuse for what I have done."
"I look forward to moving ahead, repaying my debt to society and building a long-lasting relationship with the Great Falls Explorers," Clark said. "I take a lot of pride in my position as Rocky Raccoon and cannot wait to get back on the floor to entertain fans of all ages."
Society was unavailable for comment on whether the inestimable debt incurred by the enormous blue raccoon could, indeed, ever be forgiven.