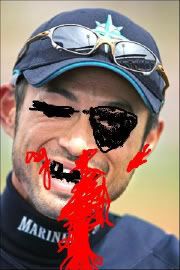 (above, Ichiro's would be new-look, inspired by Derek Erdman's "STRANGLED: Dallas Cowboys Cheerleaders")
I'll spare you a proper introduction of myself with a simple statement: I quit smoking on Monday and am now on day five of The Patch. The process has been brutal, and I probably haven't been the nicest guy over this past week. Numerous times I have caught myself snapping at co-workers, family and friends throughout, and while part of me feels kinda bad about my behavior, last night I received my punishment by having fallen asleep with The Patch on. During this turbulent sleep I was subject to the most unpleasant dreams, the most memorable of which involved a string of friends and acquaintances visiting my home in Silicon Valley, performing some kind of Trojan-horse home invasion, and submitting me to all kinds of humiliation and cruelty that I won't detail here on my first posting on CSTB, but let me say that the premature aging, heart disease, cancer and yellow teeth which go along with smoking seemed appealing by comparison. …Anyway, that said, I was surprised to find my outlandish semi-conscious hallucinations to have a very similar storyline to an alleged situation taking place in my beloved Seattle Mariners' clubhouse. Per Geoff Baker in Thursday's Seattle Times:
"I just can't believe the number of guys who really dislike him," said one clubhouse insider. "It got to a point early on when I thought they were going to get together and go after him." The coaching staff and then-manager John McLaren intervened when one player was overheard talking – in reference to Ichiro – about wanting to "knock him out." A team meeting was called to clear the air. It was a repeat of May 2007, when Mike Hargrove was in charge and a team meeting had to be called during a series at Tampa Bay because of clubhouse bickering over Ichiro being a "selfish" player.
As a avid and loyal fan of the Mariners, I can confirm with certainty that there 20 or 21 Mariner players who should be knocked out, and none of them are Ichiro. The lack of quote attribution forces me to speculatively associate said quote with simpering Mariner tough-guy mediocrites Jerrod Washburn and/or Willie "Ballgame" Bloomquist, but for fuck's sake, put a tent on this circus.
Mariner Manager Jim Riggleman displays an uncanny clarity in an ESPN and Seattle Times follow up as follows:
"We've lost so many games, so these types of things surface," Riggleman said. "When the ship is sinking, the rats are the first ones off. They're the ones scavenging everything on the ship when it's going good, but when it's sinking they're the first ones off."
On the bright side in Mariner-land, the M's have a magic number of 2 in the Strasberg sweepstakes, aka the #1 pick, with the hard-charging Nationals trailing the Phillies 7-1 in the 2nd inning.